Indoor Gardening Made Expensive...
by roy mackey
January 7, 2020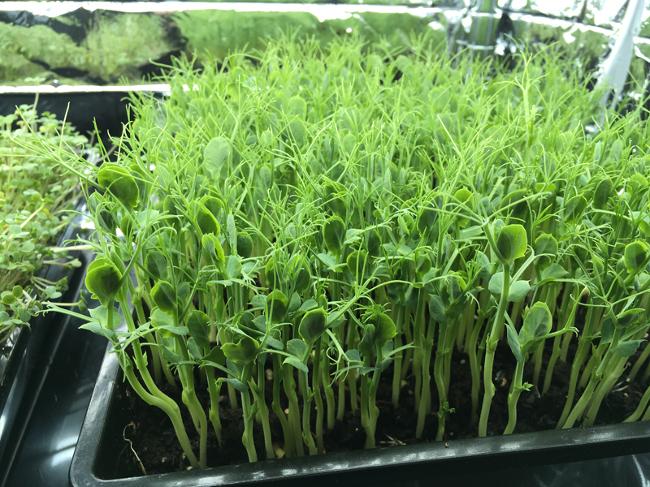 Pea Shoots... Delicious!!!! My First Batch!!!

Since I never leave my cell here I thought it would be nice to have a garden in the place. After all I got a full on welding shop in here. Along with a custom bike shop, art gallery, fun day job, writing loft, home and a summer retreat with a great view of the bus stop across the street. All this crammed into a 1500 sq ft artist loft.




Well as it turned out no one on Google could prove to me the indoor growing could be done so I abandoned the idea. Then I heard about micro greens....




So off I went. Amazombie provided the shelf... $100 bucks give or take. The lights I also got off Amazombie 8 four foot tubes for $80 bucks and 20 ten by ten trays for eighty bucks. Oh also bought a timer for 20 bucks there also. After that I hit the grow store up the street for some minor accessories like hemp mats and a spray bottle. I think all in seeds included it came out to $460.





Of course this was way more than it needed to be for sure but I can write it off and did not have the time to make or hunt for deals. Now when you factor in how much microgreens cost even for what I spent I am sure I am going to get my money back!!! Especially when you check what most markets want for them!!! I think I have already eaten about five trays of pea shoots and a tray or two of radish.





Oh I got my seeds off Amazombie also and since I gave up extreme sports like skydiving, gun fighting and eating food imported from China I tried to make sure the seeds were grown here in North America.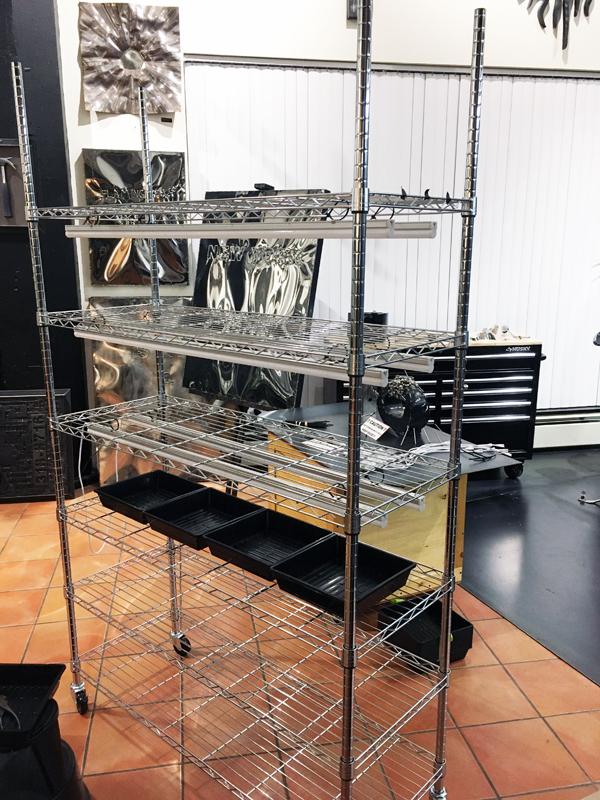 Here is the shelf just assembled with the lights attached and some of the 10x10 trays. I am not sure what came first the shelf or the trays but would love to find out. Spent an hour trying to find trays that matched the standard shelving sizes.... no can do.





Now the trays are made in China and BPA free. But of course one smell and you can tell right away that they don't need BPA!!! They smell so carcinogenic it is unreal. Sorta like burning plastic at a dump next to a dead skunk cover in cat sh.... Anyway.... you get my point. Personally if I had half a brain and was worried about my survival I would use something else.... course I would also leave the city.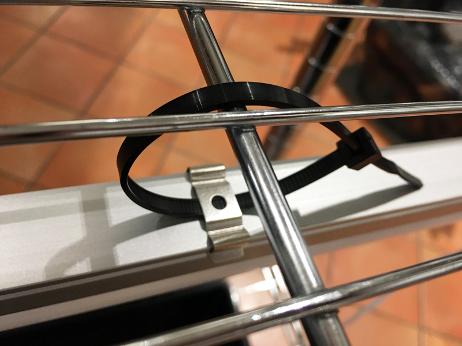 Close up of how they are hung

You can see here how I hung the lights. They came with the little snap on clips. If you had a wood shelf you could just screw the clip to the bottom of the shelf above it and snap the light in. The zip ties fit nice behind the clips if you get the smaller size ones.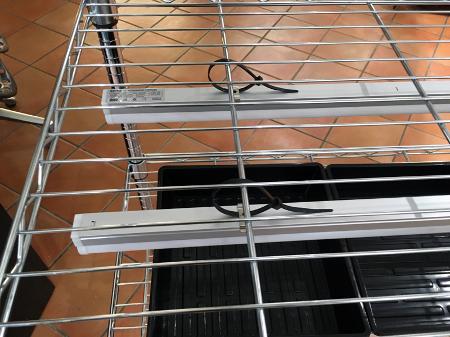 One clip at each end of the 48 inch light

The lights were a deal also. Fresh from China. 6500K. Irritating as hell like most led lights and will probably burn the back of your eyes off over time. Cheap though at 80 bucks for eight of them. You could also mount them with scotch tape as they are incredibly light. These are also plug and play. No wiring to do just plug them in. They come will all sorts of options. You can connect them back to back or individually or whatever.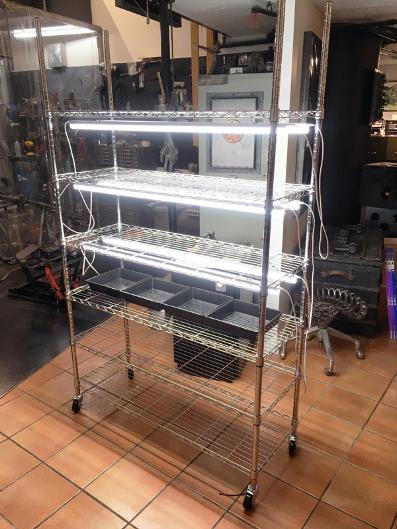 Here we got the lights working....






The nice thing about this shelf is it has wheels so I can move it tahell out of the way when needed. Also when I get sick of it and sell it on craigs I can just roller down the hall to the loading bay and into the next suckers truck.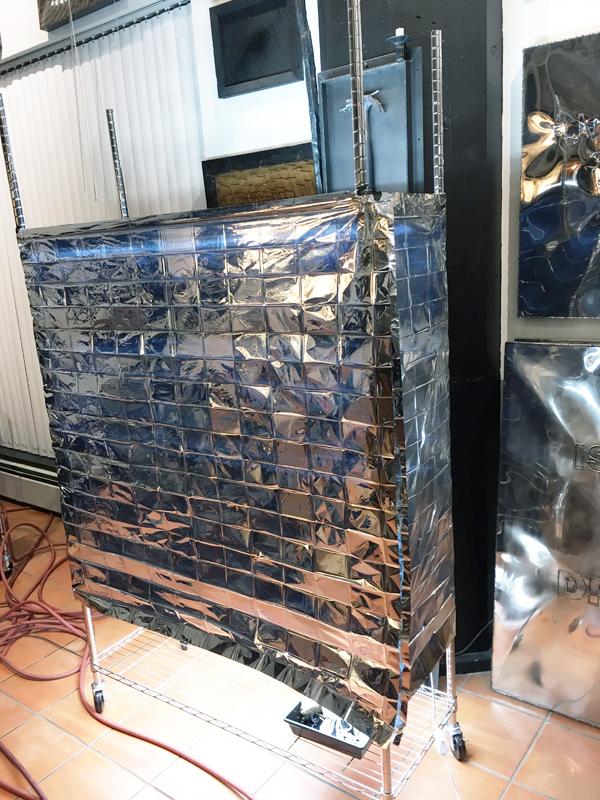 Next a quick wrap with a couple layers of survival blankets. Surprisingly one layer did not block all the light. Sometime soon I am going to come up with a better plan here. I am trying to source out grow tent material in smaller quantities.... got any ideas?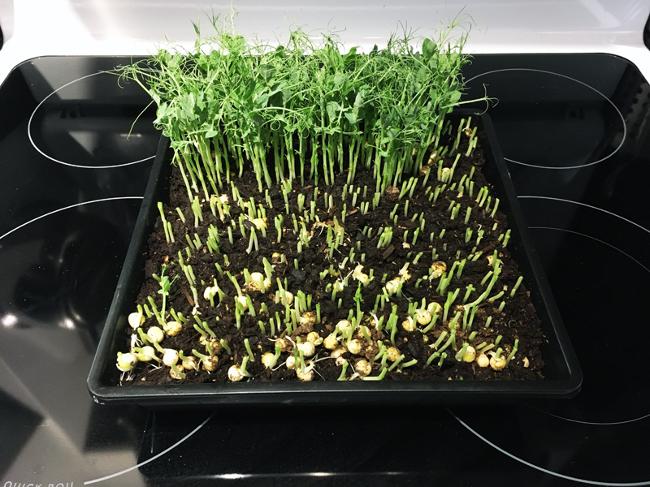 Being from BC Clear Cutting Is Just In Our Blood.....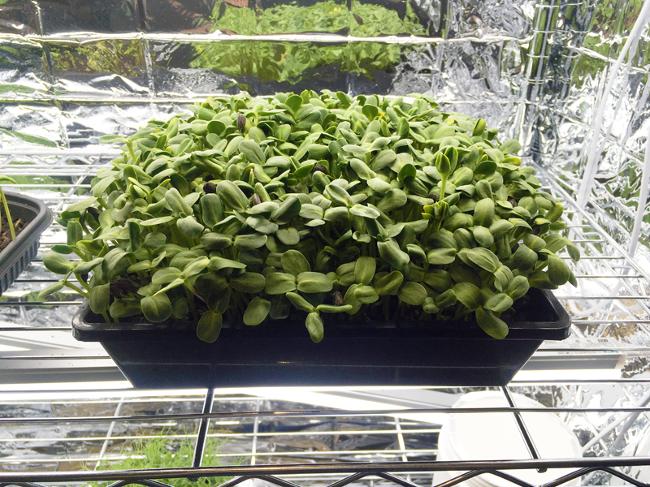 Sunflower Shoots

Here is my first batch of sunflower shoots. Man talk about delicious!!!! An incredible nutty flavor. I will definitely be growing a lot more of these. Even the bird seems to pick at them. That is a lot of greens for not that much work. They sure beat the hell out of the stench I cook here!!! I finally decided that eating at McDonalds would be a healthier choice than my cooking by a long shot.





As skeptical as I was mostly because I don't seem to get a spare moment here these are pretty easy to grow once you get a bit of a system.







Now since I just started this I will admit I don't have a clue. But will be posting some more pics and stuff about actually planting them and what I found..... getting late here and I gotta get up in a couple of hours... I should watch the clock more.